Our Grand Event on Apr. 7 was a grand success!
About 300 guests came "Back to School" and almost 70 students and dozens of adult volunteers worked hard—all to support Christian education—and netted about $80,000! Check out photos from the night on our
SmugMug
page.
Still, we are <this close> to meeting our matching goal from Grand Event, and fully funding our Chapel Experience and Laser Engraver for our Tech Ed classes.
That's we decided to keep the Grand Event going for just a bit longer. Whether you bid on something and didn't win, or you weren't able join us in person, please consider giving online now. For every dollar you donate RIGHT NOW, a generous anonymous donor will match it! Whether it's $10, $50, or $100—or more—help us wrap up our Grand Event in style!
$7,500 Match Opportunity: Chapel Experience!
One of the most treasured parts of our day is the three mornings a week when students, faculty, and staff gather for chapel worship. As much of a blessing as it is, if you've ever been there in person, you know the challenges that also come from our gym-chapel setting. Your donation to the "chapel experience" will bring the blessings of improved audio, video, and live streaming capabilities in our gym-chapel setting. Upgrades and replacements include amplifiers, speakers, boom mics, projector and screen, computer, camera, and permanent AV booth relocation.
$5,000 Match Opportunity: Laser Engraver for Tech Ed
Our LLHS Tech Ed Department educates and equips many of our Warrior teens in hands-on skills that are in high demand in today's workforce. Staying up-to-date with the tools of technology is important and a challenge. This resource would continue to outfit the computer room in becoming a working "Fab Lab" in addition to the 3D printing machines, and would be used to etch wood, leather, glass, and plastics, as well to cut masonite and cardboard in constructing prototypes. The Pro Series CO2 48x36 Laser with engraving table is $10,000. A generous donor has agreed to match donations up to $5,000 to accomplish the goal of having the machine ready for integration into Tech Ed curricula next fall.
Grand Event VII: Decades of Faithfulness
Saturday, April 7, 2018 at Lakeside Lutheran
Our 2018 back-to-school theme is inspired by the Psalmist,
"Teach me your way, Lord,
that I may rely on your faithfulness." (86:11)
What a faithful LORD we have. We are grateful for your prayers and efforts for Lakeside, a ministry with its mission to assist parents in educating, encouraging and equipping teens for life -- not just for their earthly lives, but life eternal -- when his faithfulness will be our glory.
See auction items!
Learn about opportunities to have your donation matched

It's a night to come back to school for Christian education!
_______________
Timeline for the Evening of April 7, 2018
4:30 Doors Open, Check-in -- Social Hour/Silent Auction begins
(Appetizers, Bar, Raffles in atrium -- Auction in East Gym)

6:15 SILENT YELLOW Auction Section Closes

6:50 SILENT BLUE Auction Section Closes

7:00 Dinner in West Gym -- stay tuned for details!

8:00 Desserts served, Live Auction begins, Raffle winners revealed

9:00 School's out!
Our generous sponsors support us. Let's support them!
Past Years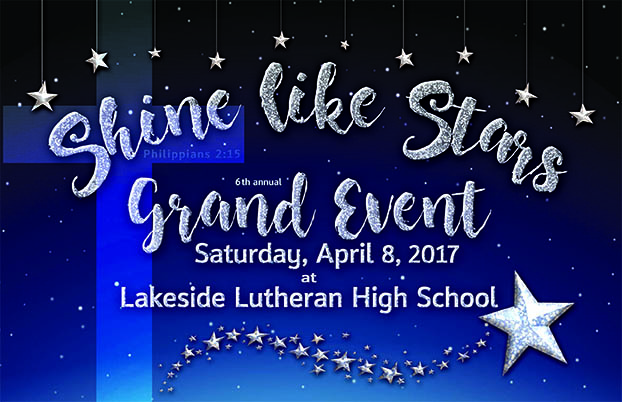 Grand Event V: Walk by Faith
Saturday, February 13, 2016 at Windwood of Watertown
Our 2016 garden theme was inspired by Paul's reminder in 2 Corinthians,
"for we walk by faith, not by sight."
What a lovely walk it can be when we trust in the LORD's promises. We are grateful for your prayers and efforts for Lakeside, a ministry with its mission to assist parents in educating, encouraging and equipping teens for life -- not just for their earthly lives, but life eternal -- when all believers will walk together in glorious heavenly gardens.

It's your night to be a gardener for Christian education.
Your event ticket alone helps water the seeds of the Lakeside teen ministry while you enjoy a lovely evening with friends, a delicious meal and entertainment.
Add to the night the auctions, the raffles, the games, and it's a win-win as your socializing and support makes our garden bloom ever bigger and brighter.
Sponsorships for the dinner, auction and dessert are available at the registration site
Thanks so much for walking with us in the garden!
______________________________________________________________________
Grand Event IV: Anchored in Christ
On March 28, 2015, we held our 4th annual Grand Event at Lakeside Lutheran High School. The silent auction was in the cafeteria and the dinner and live auction was in the west gymnasium; the entire venue was decorated in a nautical theme.

205 guests attended the event, raising a net profit of $45,000.
Over 450 items were donated for the Silent/Live Auctions, Dessert Sail, Jewelry Treasure Hunt, Wine Pull and for event decorations.
Nearly 200 volunteers -- students & parents, faculty & staff, and Kohls Associates in Action -- made the night possible for our wonderful attendees.