_____________
Guest tickets for GE6 are sold out
~ Awesome opportunity for any LLHS supporter,
whether or not you attend this year's Grand Event ~
An anonymous donor has offered to match other monetary donations dollar for dollar, up to $5,000!
These donations will go directly to our student assistance fund,
so even more families can make the dream of Christian secondary education a reality!
You can donate any amount and your gift doubles!
Drop off or mail in a check to LLHS with "GE Match" on the memo line
or donate online here (you don't need a Paypal account to give through this button)
Timeline for the Evening
4:30
Doors Open, Check-in -- Social Hour/Silent Auction begins
(Appetizers, Bar, Raffles in atrium -- Auction in East Gym)
6:15
SILENT NAVY Auction Section Closes
6:50
SILENT SILVER Auction Section Closes
7:00
Succulent Pot Roast & Chicken Bruschetta Dinner
(served family-style in West Gym)

8:00 Star-Studded Desserts served, Live Auction begins, Raffle winners revealed

9:00 Stars go out
How will you be involved?
Do you have goods or a service to add to the silent or live auction?
Use the donation form at right above, download and fill in -->
View donation ideas and sign up using this new SignUpGenius option:
We're happy to pick up your item donation!
We love "priceless" donations, where you share a skill or knowledge with the highest bidder
Business or individual sponsor?
We have opportunities to sponsor an ad or part of the night: dinner, social hour or dessert sponsorships include 8 tickets
Fun Christmas present idea: sponsor a table of 8 and gift a seat to your family and friends! Forms at right above -->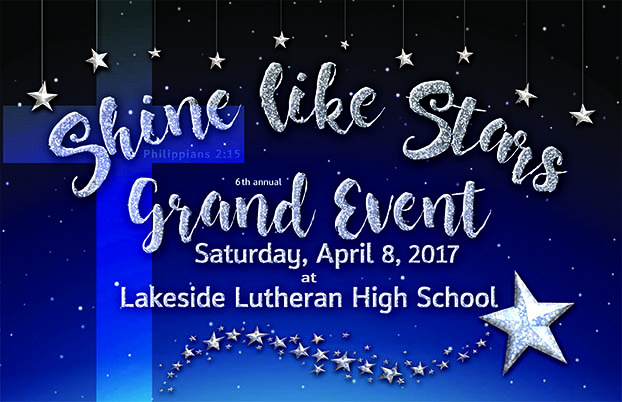 Grand Event V: Walk by Faith
Saturday, February 13, 2016 at Windwood of Watertown
Our 2016 garden theme was inspired by Paul's reminder in 2 Corinthians,
"for we walk by faith, not by sight."
What a lovely walk it can be when we trust in the LORD's promises. We are grateful for your prayers and efforts for Lakeside, a ministry with its mission to assist parents in educating, encouraging and equipping teens for life -- not just for their earthly lives, but life eternal -- when all believers will walk together in glorious heavenly gardens.

It's your night to be a gardener for Christian education.
Your event ticket alone helps water the seeds of the Lakeside teen ministry while you enjoy a lovely evening with friends, a delicious meal and entertainment.
Add to the night the auctions, the raffles, the games, and it's a win-win as your socializing and support makes our garden bloom ever bigger and brighter.
Sponsorships for the dinner, auction and dessert are available at the registration site
Thanks so much for walking with us in the garden!
______________________________________________________________________
Grand Event IV: Anchored in Christ
On March 28, 2015, we held our 4th annual Grand Event at Lakeside Lutheran High School. The silent auction was in the cafeteria and the dinner and live auction was in the west gymnasium; the entire venue was decorated in a nautical theme.

205 guests attended the event, raising a net profit of $45,000.
Over 450 items were donated for the Silent/Live Auctions, Dessert Sail, Jewelry Treasure Hunt, Wine Pull and for event decorations.
Nearly 200 volunteers -- students & parents, faculty & staff, and Kohls Associates in Action -- made the night possible for our wonderful attendees.